Personal Side
Sue and her Friends!
Georges Braque once said." There is only one valuable thing in art;
the thing you can not explain."And here is the essence of Sue Miller's
art. The timelessness of eternity, beyond and outside time. That mysterious
ingredient of creativity which stands entirely apart from style. Sue literally/
burns from inspiration and always has. Art is her life and life is her art.
Chit chat from Sue..
( click here )
Sue's Art Room
(Click for Larger Views)
SUE AND HER HUBBY VERN

CHRISTMAS 2006

My husband Vern and I
My brother Paul playing guitar

he's a professional musician.

My brother Tom Pacheco/Singer songwriter .

For more info about Tom

Pacheco my brother

www.tompacheco.com
Holly is my other niece. I use her also

for many of my painting ideas.

She is Patty's daughter.

Nicole is my niece and also a model for a lot of my paintings. She's my sister Patty's daughter also. Nicole is also a great up and coming artist. She just graduated from high school and going to college in the fall. She's shown with her dog Daisy.

Can anyone guess which one is Sue?? If you win
you get a free postcard. :-)
( Email Sue )
This is Patty my kid sister.

She's my best friend. :-) She

plays flute and sings like an Angel

Tony is my sister Pattys wonderful hubby.

He's so talented and smart... he does everything!!
| | |
| --- | --- |
| | |
| | |
| --- | --- |
| | |
Here is my dog Autumn. She's a Golden Retrever..my baby...very spoiled!
~*~*~*~*~*~*~*~*~*~
SUE'S FANTASY WORLD...
FLOWERS FLOWERS EVERYWHERE
| | |
| --- | --- |
| Back yard with flowers everywhere | View of the Lake from back yard |
| | |
| --- | --- |
| Front of house with Flowers | The LOVE GARDEN |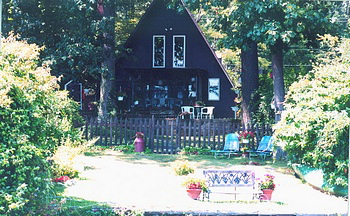 Sue's Fairy Land
View ALL of Sue's Art | Wildlife Photography | Floral Photography | Food/Still Life Photography | Landscape Photography | BOOKS FOR SALE | BOOKS Sue's Art's In | NEW CLOCKS | Fairies, Elves & Fantasy | DRAGONS | MERMAIDS | ANGELS | VALENTINES DAY | EASTER | CHRISTMAS | HALLOWEEN | THANKSGIVING | HIPPIE SERIES | DANCE SERIES | ALIENS | Heather Series | Christian | Clowns | Portraits | Misc. Art | Hattitude | Patriotic | Holiday | Wildlife | Swans | Original Paintings | Fall | GIFT ITEMS!!! | Tony Pacheco Art | Postcards | Jewelry | ZAZZLE GIFT SHOP | CAFEPRESS GIFT SHOP | New Items | Sale Items

All artwork & content copyright Sue Miller-Pacheco
No unauthorized usage of artwork is permitted.
Web Site by Ethereal Designs www.etherealwebdesigns.com
Best viewed with 1024 x 768 res. or higher